(Last Updated On: April 22, 2019)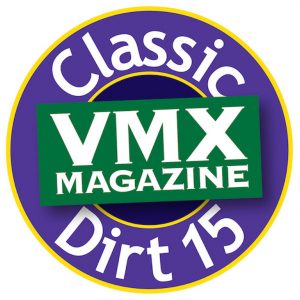 The Original and the Best has a new venue and a new date:
When: 3–5 May 2019 (QLD long weekend)
Where: QMP – Queensland Moto Park, 110 Goan Road (off Beaudesert-Boonah Rd), Coulson, Queensland 4310.
Just an hour or so inland from Queensland's Gold Coast, VMX Magazine Classic Dirt 15 will be held at Queensland Moto Park (QMP), a dirt bike complex that just keeps getting better.
The track and facilities
There's a wonderful natural terrain track for twinshock bikes, the MX1 track for Pre '95 bikes, vinduro loops, Trials and a flat track.
The motocross tracks have inbuilt watering and the facilities at QMP are top notch. There's two permanent toliet/shower blocks and well-grassed camping areas.
The township of Boonah is only ten minutes away, if you need any supplies or just want to have a look around. The local football club will be providing all the catering plus a bar and there's a wonderful cafe building with large deck areas where you can sit and watch the action while you're enjoying a cold one. There'll also be two coffee vans. Plus, there'll be all the same old elements of VMX Magazine Classic Dirt that you've come to know and love – trade stands, swapmeet sellers, Legends Laps and interviews, Show and Shine, entertainment on Friday night, live band on Saturday night and the trivia competition.
The poker run is back
On the Friday we'll be bringing back the Poker Run for registered trail bikes that was introduced last year (as you know, VMX Magazine Classic Dirt is always the first with new ideas, we don't just copy other people's events or ideas, we are the original and the best) that will cover some beautiful ground around the local countryside. Commencing at 1pm, participants will complete a loop of 50/50 tar road/dirt road with two stops to collect cards. So get out your trail bikes (DT, TS, XL and so on) for a fun ride. Registration will be in the VMX Magazine tent on the Friday morning. Cost will be $25 (additional to the regular $135 entry/ride fee) and there'll be prizes for the three best poker hands.