(Last Updated On: February 27, 2020)
Registration is now open
VMX Magazine is excited to advise that riders registration is now open to our flagship event VMX Magazine Classic Dirt 16. For the riders: you only need to enter one 'class' and one bike but you can of course ride on any relevant track on any number of bikes.
Credit card and EFT payment options are available.
If you require any assistance, please contact Perry Morison on 0418 468 889.
Spectators can pay at the gate. Please scroll down to see the event map.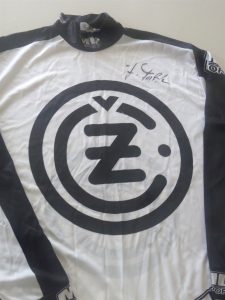 Support the Perry Cross Spinal Research Foundation
VMX Magazine will also be hosting a charity auction to raise funds and awareness for the Perry Cross Spinal Research Foundation. All proceeds from the auction will go to research to find a cure for spinal injury.
The list of auction items is growing as we share this news with you. For example:
Jaroslav Flata signed CZ jersey (XL – Made in Germany)
Classic Dirt 5 T-shirt signed by Joel Robert
Classic Dirt 2000 VMX Magazine Event t-shirt
Preston Petty Mudguards signed by Preston himself
Preston Petty numberplate signed by Malcolm Smith
Suzuki SuperX cap signed by Roger DeCoster
VMXMag Classic Dirt 15 T-shirt signed by Donnie Hansen
and much much more.
We urge you to attend the auction, it will be a great opportunity to acquire a piece of signed memorabilia and support a good cause at the same time.
The auction will take place on Saturday 6 June evening, at VMX Central as part of the off track activities after the completion of the first ride day.
No politics, no racing, just natural terrain at its best!
Please share these dates with your mates, they won't want to miss out.
Event: VMX Magazine Classic Dirt 16
Date: 5 – 7 June 2020
Venue: Three Pines MX, North Kyogle NSW