(Last Updated On: December 30, 2018)
It's been a great day, more than I'd hoped for. I tell Todd and Dan that I'm not taking off the jersey. Perhaps I think that the day will last as long as I wear it. The sun lowers and the shadows lengthen as we leave the track and head up the river and back home.
Back in Wilson Creek for the next two weeks, I scrape, sand, caulk, and paint Mom's house. I think about the race. I leave the bike parked outside. I look at it, but I don't ride it. I don't ride it partly because I've got a job to do and I've got to be responsible. I don't ride it because I'm too tired. I don't ride it partly out of a kind of respect for the bike; somehow I think of it like a horse that performs some great feat and deserves a good rest. And I don't ride the bike to keep the moment alive.
The bike has really earned my respect. It surprised me, and as I look at it closely I begin to appreciate its details that I've seen countless times but never seen at all: the folding shift lever and rear brake; the 90 degree, straight-pull throttle; the quick release rear hub; the quality o-ring chain (still on the bike), the compact engine cases; the fully adjustable monoshock; the Powerboost induction system—details that show a lot of effort in its design and manufacture. I've become a Yamaha fan, not just because of the bike, but because, more than any other manufacturer, Yamaha approached motocross hammer and tongs, constantly innovating and fielding competitive motocross bikes in all three size classifications every year throughout the 1970s and early 1980s, effort seen these days in the number of Yamahas at vintage races.
Besides motorcycles, Yamaha has played a great part in another passion of my life—guitars. My first guitar was a Yamaha. I bought it new in 1978, and more than any other object I've ever owned, it's been with me everywhere ever since. But these two Yamahas—the bike and the guitar—seem to summarize an ongoing tension in my life between motorcycles and music, the two main hobbies in my life. I play the guitar a lot these days, and I sometimes wish that I'd played the guitar instead of riding bikes when I was young. Even the Yamaha symbol—three tuning forks crossed in a circle—seems to touch on this tension.
On the other hand, the race builds my respect for motocross. It's the ultimate human/machine sport, one where rider input and body position are critical for top performance in a way totally lacking in four wheel sports. It demands complete attention: it's like being up to bat in baseball, running a fast break in basketball or running a play in football—for the entire race. A forty minute moto at any level is a grueling accomplishment. The hammer and tongs attitude motocross requires benefits me in other areas of life.
As I paint the house, I try to maintain a steady hand in order to clearly define the lines between each color. But the lines between motorcycles and music, between my college professor and motocross selves and everything else refuse to clarify. Maybe the two Yamahas and the Ph.D. are deep down about self expression or discovering something about life. I don't know. Mostly, elements of my life seem to blend together in interesting ways, changing like a kaleidoscope with each change in point of view. I'm old enough to recognize the tension; perhaps I'm old enough to accept the ambiguity.
In the meantime, I paint and think about my last ride for the summer. I'll ride down the Blackrock Road, past the wheat fields turning from spring green to summer gold, turn east on a one lane road lined with big sagebrush, cross two cattle guards, turn left, and ride on some land that we still own, a forgotten place loaded with interesting gullies that I haven't seen in years. I'll take this ride just before I drain all the gas out of the tank and the carburetor, push the bike down the lane, place it back in the grain bin, and close the door one more time on that part of my life.
Brian Larsen, August 2011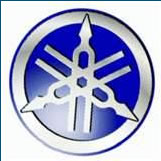 Note: The author hopes to write a book about his motorcycle experiences. Stay tuned.